LA FOLLE JOURNÉE au JAPON
«Days of Enthusiasm» Music Festival
Most Exciting Classical Music Festival in the world!
Coming back May 2007
LA FOLLE JOURNÉE au JAPON
«Days of Enthusiasm» Music Festival 2007
−Harmony of People−
Description




● Dates
:
April 29 (Sat) to May 6 (Sat), 2007
● Place
:
Tokyo International Forum (all halls) and the surrounding areas (Central Tokyo, Japan)
● Performing Artists
:
Over 1500 people (Asian 1000 / European 500)
● Number of Concerts
:
About 300
● Admission
:
¥1,500〜¥3,000 for 1 concert
● Host
:
Tokyo International Forum
※Announcement of the Concert Schedule in Mid- February 2007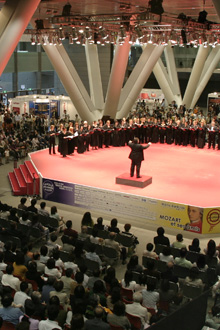 Tokyo transformed into a Musical Isle
April 2006. Marunouchi area of Tokyo was transformed into a fervent Musical Isle. Filled with festive spirit, La Folle Journée Music Festival "Days of Enthusiasm" 2006, which originated in France shattered all previous images and preconceptions of classical concerts. The recorded attendance was about 700,000 in 2006, compared with 320,000 in 2005. With 249 concerts involving more than 1,870 musicians from around the world, ticket sales mounted to 160,218. All such figures are unprecedented for any classical musical event, and the economic impact on the surrounding area was undeniably marked. Even young people and families with small children came and audiences of all generations were touched by world class performances. The venue was engulfed by a joy-filled spirit and excitement - it was as if walking into a musical theme park. The media saw the Festival as a "social phenomenon", proclaiming the coming of a classical boom.
Top-notch presentations of the world's great masterpieces of classical music will be performed by renowned composers from various countries. "Harmony of People" is the theme in May, 2007. It's a great chance to embark on a voyage of musical adventure and discovery at Tokyo International Forum.
Features
1.
All Day Long
In 7~9 halls of the Tokyo International Forum, musical concerts are held all day, simultaneously, one after another. Also in the surrounding area - Otemachi, Marunouchi, Yurakucho and Hibiya. - various other programs connected to the festival are planned, offering the joy of music to 1 million people.
2.
Always Thrilling
Each concert is about 45 minutes in length and always engaging for the audience.
3.
Variety
About 300 performances by a variety of soloists and ensembles in 5 days.
4.
Special Themes
Each year, the festival will have a new theme that emphasizes a significant movement in musical history. The third theme in Tokyo is "Harmony of People."
5.
Performers of the highest level
Distinguished artists gather in Tokyo from all over the world, agreeing to the spirit of the festival planned by René Martin. Many Japanese top artists will also participate.
6.
Rock-Bottom Ticket Prices
First-class concerts can be enjoyed for the low ticket price of ¥1,500 to ¥3,000. You can go to the concerts with your whole family.
Artistic Director

René Martin

The quest for a "Musical Isle" immersed in marvelous melodies.



To break out of the conventional shell of classical music and delight all who attend, this must be a musical festival in which anyone can deeply enjoy. My aim is the true "democratization" of classical music – presented once a year and at sensible prices. Likewise, my vision includes a plentiful musical program, realized through the power of encounters and sharing between top-caliber musicians and the members of the audience. This event, in my mind, must also offer rich appeal for elementary, middle and high school students, as well as anyone aspiring towards future associations with classical music: celebration of the classical genre, open to all who come. This, in a nutshell, is the spirit I seek to manifest with "La Folle Journée."

» René Martin special interview
» How to enjoy "Harmony of People"
La Folle Journée A superb festival of classical music, first held in 1995 in Nantes, a port town in the northwest of France. True to its name, which translates as "Days of Enthusiasm," this event is devoted to a unique concept positioned to defy the common wisdom of classical music. Toward that end, it delivers the most exciting and dynamic development of any of the many musical galas staged in Europe. From the year 2000, meanwhile, La Folle Journée has also been produced in Lisbon, Portugal, from 2002 in Bilbao, Spain and from 2005 in Tokyo, Japan.
LA FOLLE JOURNEE AU JAPON "Days of Enthusiasm" Music Festival